Alitis Market Update – Recent Activity March 10th, 2020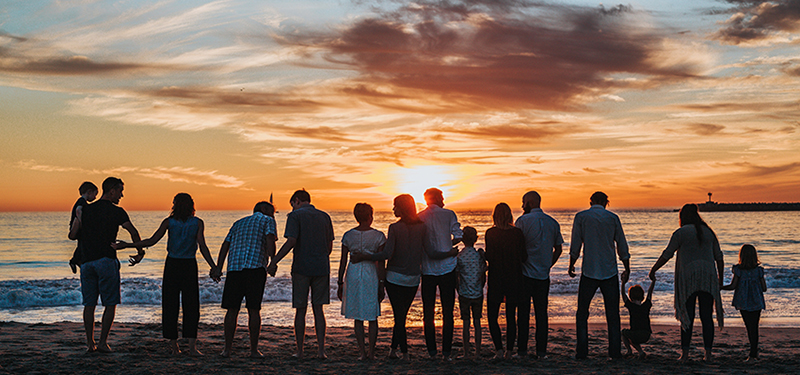 Kevin Kirkwood, CFA
President & Chief Investment Officer
March 10, 2020
As you are probably aware, there has been a great deal of activity in the markets due to the COVID-19 Coronavirus and, more recently, the shocking drop in the price of oil. Monday saw a nasty drop in the world's stock markets, so we wanted to provide you with another update.
COVID-19 Coronavirus
The COVID-19 Coronavirus continues to create headlines as it spreads across the globe. Yesterday, Italy has effectively locked down the entire country to stop the transmission of the virus, and rightfully so as the number of cases is skyrocketing:
Italy – Active Cases – March 9, 2020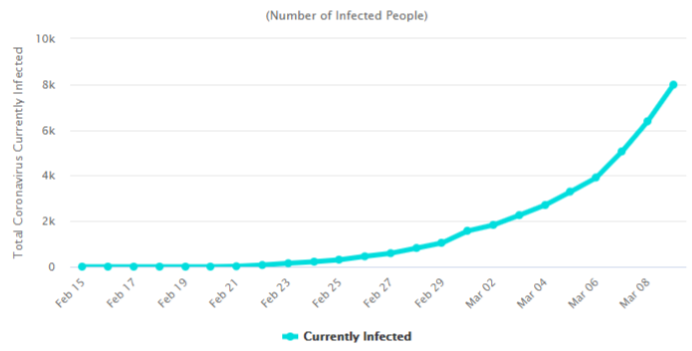 https://www.worldometers.info/coronavirus/country/italy/
Perhaps even more concerning is that closer to home, the number of deaths in Washington state now stands at 22 and BC just had its first death related to the virus. Thankfully, BC's Provincial Health Officer, Dr. Bonnie Henry, is extremely qualified to deal with the issue as she worked on the front line in Toronto during the SARS crisis, helped eradicate polio in Pakistan, fought Ebola in Uganda, and worked to control the H1N1 influenza outbreak in 2009. https://www2.gov.bc.ca/gov/content/health/about-bc-s-health-care-system/office-of-the-provincial-health-officer/biographies More COVID-19 cases will be found in BC, but it is unlikely that the province will be caught off-guard as other regions of the world have been.
Not all the news is bad, however. Countries that were in the news previously have started to get the spread under control. South Korea, for example, still has an increasing number of active cases, but the rate of growth is slowing which would indicate that they are getting the outbreak under control.
South Korea – Active Cases – March 9, 2020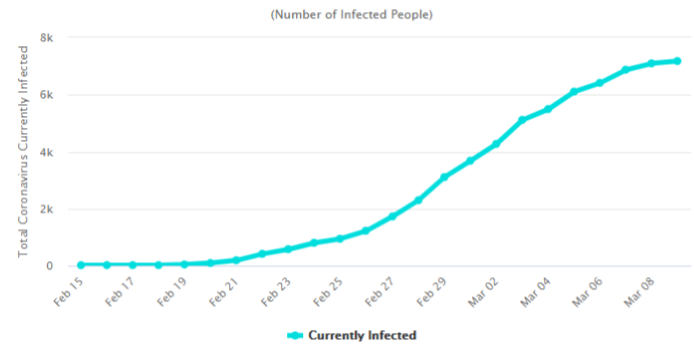 https://www.worldometers.info/coronavirus/country/south-korea/
China, where the virus began, is even farther along in controlling its spread. More people have been recovering from COVID-19 than have been getting it, resulting in 2/3 reduction in active cases from the peak in mid-February.
China – Active Cases – March 9, 2020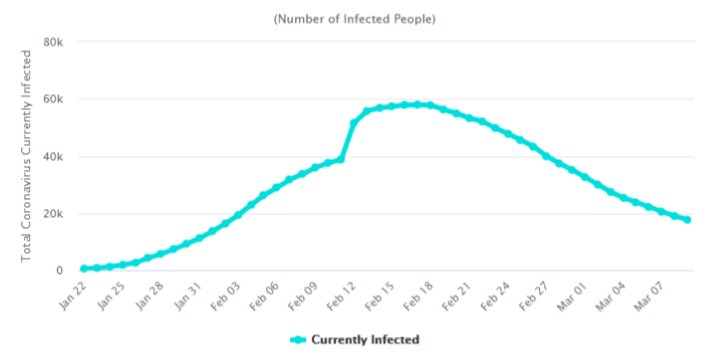 https://www.worldometers.info/coronavirus/country/china/
COVID-19's progression in both China and South Korea shows that the virus can be controlled and then reduced. This is a good sign for what can be accomplished elsewhere, as long as there is the will to do what is necessary. Vigilance is the key.
Oil
Besides fear, one thing that the COVID-19 virus has done is reduce the demand for oil.  People are clearly traveling less as the virus story continues to develop. Then adding to that, this last weekend, Saudi Arabia shocked the world by dropping the price of its oil after OPEC and Russia could not agree on production cutbacks to keep prices higher.  https://www.cnn.com/2020/03/08/investing/oil-prices-crash-opec-russia-saudi-arabia/index.html Essentially, Saudi Arabia has started a price war that has crushed the price of oil…
Brent Crude Oil Price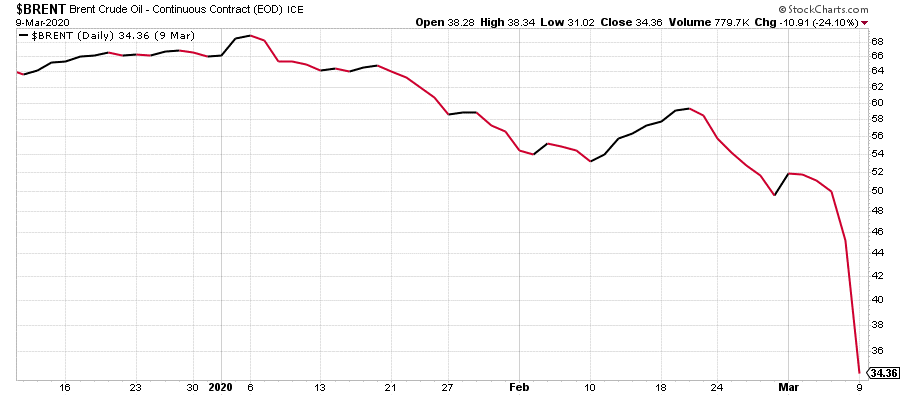 …and hammered the price of energy stocks in Canada and around the world…
iShares S&P/TSX Capped Energy Index ETF (XEG.TO)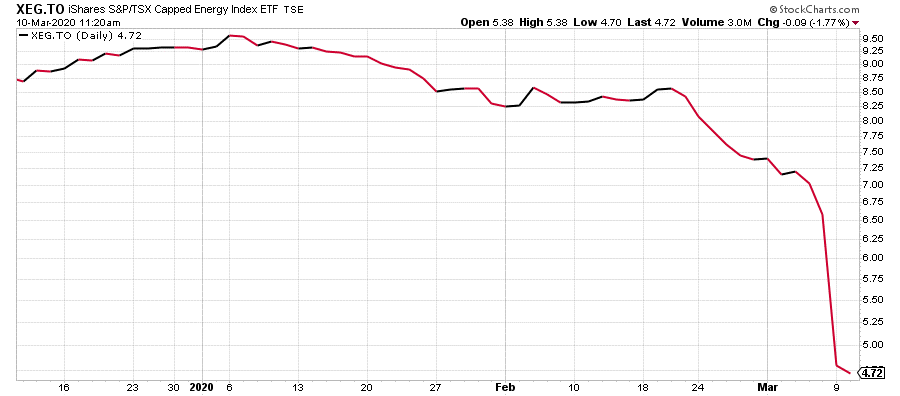 Stocks & Bonds
The one-two punch of the coronavirus and the collapse in the price of oil led to a substantial market decline on Monday. It was an awful day!
There has been a bit of a recovery on Tuesday with some calm returning to the markets; so we believe that some reasonable assessments can be made about future investment prospects. It's likely that the volatility in the stock markets will continue for some time as the full impact of COVID-19 and oil prices filters through the economies of the world. New information will be scrutinized and acted upon very quickly – both positively and negatively. The one certainty is that the world is not going to end, and opportunities will arise. The time to get out of stocks has already passed and Alitis reduced its exposure some time ago. Presently, the Alitis Growth Pool is only about 50% allocated to stocks with the remainder in real estate and cash.  When opportunities do arise, Alitis will increase the exposure to stocks.
On the other hand, bonds have continued to do very well. Fear drives investors to safety, and bonds are viewed as a safer place to be. This demand for bonds has boosted their prices and dropped their yields, resulting in stunning changes in the US government bond market.
US 10 Year Treasury Yield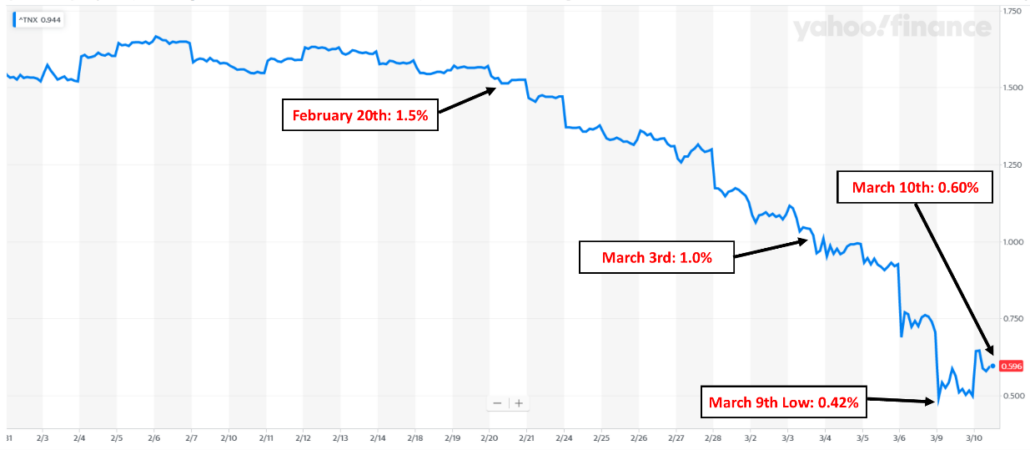 From February 20th to March 9th, the yield on 10 year US government bonds dropped from 1.5% to a low of about 0.42% — a truly unprecedented drop. A similar decline has happened in Canada, and all this has helped drive bonds to excellent gains:
iShares Core Canadian Universe Bond Index ETF (XBB.TO)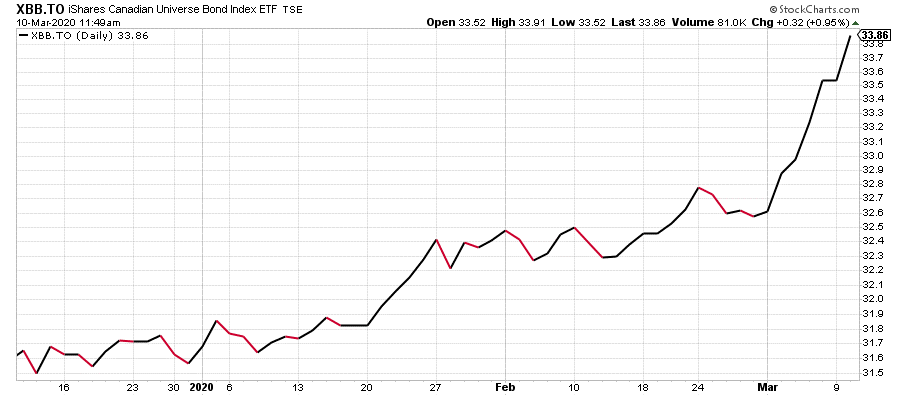 Alitis Pools
As mentioned previously, Alitis has been very underweight in stocks for quite some time now as it has been our view that better returns for the same level of risk (or less) could be achieved elsewhere. As such, we have been overweight in fixed income, mortgages, real estate, and cash. The result of our reduced stock exposure meant that the Alitis Income & Growth Pool, which holds a diversified portfolio of investments across the full range of asset classes that Alitis uses, returned 0.3% to March 6th. The Alitis Strategic Income Pool, which is invested in fixed income products, has done very well year to date with a gain of 2.4% while the Alitis Growth Pool, which has the highest allocation in stocks, dropped only 4.7% since the beginning of the year.
Returns for the Alitis Pools in 2020
| | | | |
| --- | --- | --- | --- |
| | January | February | February 28th to March 6th |
| Alitis Strategic Income – Class E | 1.16% | 0.46% | 0.76% |
| Alitis Income & Growth – Class E | 0.86% | -0.76% | 0.21% |
| Alitis Growth – Class E | -0.13% | -3.95% | -0.68% |
| Alitis Mortgage Plus – Class E | 0.34% | -0.08% | n/a |
| Alitis Private REIT – Class E | -0.49% | 0.36% | n/a |
| Alitis Private Real Estate LP – Class E | 0.84% | 0.42% | n/a |
Overall, the Alitis funds have performed as we expected in these adverse conditions and are well-positioned to take advantage of opportunities moving forward.  Stocks are still rather volatile, so we do not plan to deploy the excess cash at this time, but as markets calm down there will be opportunities to profit. As famed investor John Templeton once said, "To buy when others are despondently selling and to sell when others are avidly buying requires the greatest of fortitude and pays the greatest ultimate rewards." We endeavour to keep these words in mind when managing your money.
Kevin Kirkwood, CFA
President & Chief Investment Officer
https://www.alitis.ca/wp-content/uploads/2022/10/tyler-nix-V3dHmb1MOXM-unsplash-1.jpg
375
800
Natalie Nguyen
https://www.alitis.ca/wp-content/uploads/2022/09/alitis-logo.svg
Natalie Nguyen
2020-03-11 15:53:41
2022-10-20 12:07:38
Alitis Market Update – Recent Activity March 10th, 2020