Alitis Suspends In-Person Meetings – Coronavirus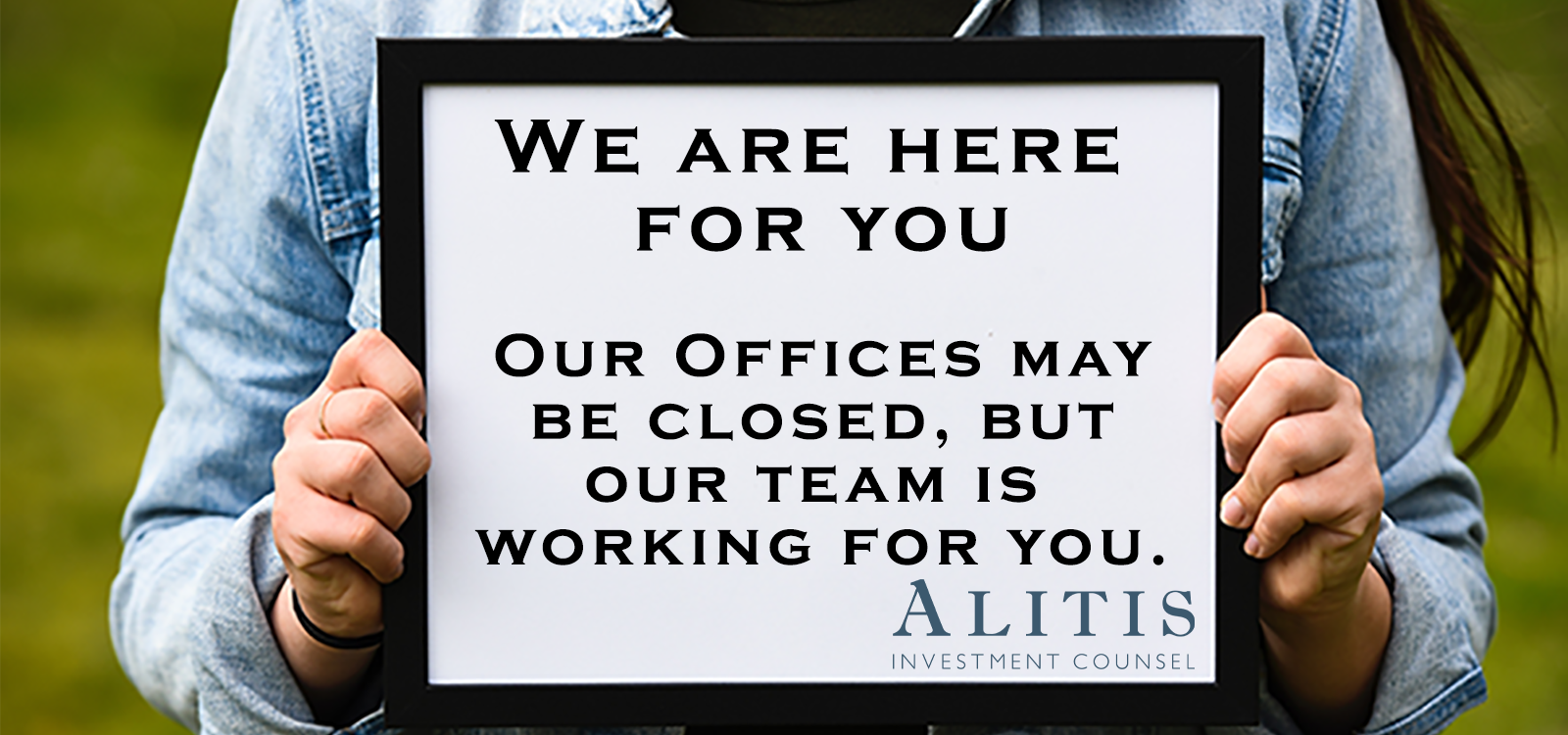 March 13, 2020
To our valued clients,
It is with an abundance of care for our clients, staff and community that we wish to advise you on how Alitis will operate for the next few weeks to do our part in limiting the spread of the COVID-19 virus.
Alitis has a Business Continuity Plan for such emergencies and effective today, Friday March 13, 2020, the company has invoked its operating procedures. We do not expect any significant disruption to the business, but there will be some changes to how Alitis will operate for the next while:
Our offices in Campbell River and Victoria will be closed to clients to protect our staff and clients from the virus and reduce its possible transmission within the community.
The majority of Alitis staff are equipped to work from home and have been instructed to do so. Essential members of the Client Service and Administration teams will continue to work in the Alitis offices to ensure that critical processing is kept up to date. No staff member will be required or permitted to enter the office if he or she experiences any flu-like symptoms.
Our Portfolio Managers and Wealth Service Coordinators will continue to host meetings by phone or video call. If you have a meeting scheduled for March or April, a member of our team will contact you to arrange a phone or video call meeting. For those who prefer an in-person meeting, we will schedule your meeting for a future date.
The company has also redirected its phone lines to ensure that your calls continue to be answered. Please continue to contact Alitis as you normally would.
As for the Alitis Pools, our Investment Committee will operate as normal. As you may know from previous communications, the Investment Committee has been pro-active and hands-on throughout the market cycle; and continues to operate with diligence, vigilance and care in navigating market turbulence.
We want to take this opportunity to reiterate our commitment to service. Alitis established procedures for operating remotely long ago. These have been tested on multiple occasions as part of on-going business operations. Alitis service providers, such as the custodians, transfer agents and those related to processing have provided us with status updates and communication instructions for continued operations after invoking Business Continuity Plans similar to Alitis'.
If you have any other questions or concerns, please contact your Alitis adviser by email or the office at 250-287-4933. Thank you for your understanding during these challenging times, and we look forward to getting back to normal operations as soon as it is safe to do so.
Sincerely,
The Alitis Team
https://www.alitis.ca/wp-content/uploads/2022/10/Were-Here-for-You-2.png
750
1600
Natalie Nguyen
https://www.alitis.ca/wp-content/uploads/2022/09/alitis-logo.svg
Natalie Nguyen
2020-03-13 23:08:58
2022-10-20 12:07:37
Alitis Suspends In-Person Meetings – Coronavirus