Central banks get set up to support bonds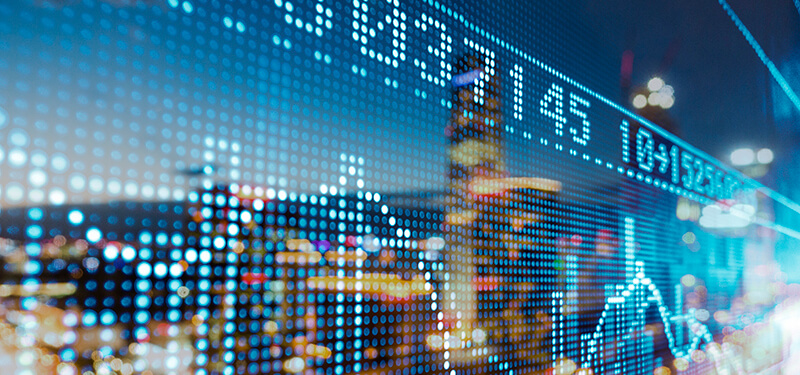 March 2020 was a very challenging month for many asset classes. Canadian Bonds1 were down 2.0%, Canada's stock market2 was down 17.4%, the US stock market3 was down 12.4% and the Canadian Publicly Traded REITs (Real Estate Investment Trust) Index4 was down 27.3% for the month. Despite all these negative returns, Alitis' Core Investment Pools (Strategic Income, Income & Growth, Growth) performed relatively well.
| | |
| --- | --- |
| Alitis Pool Series E | March 2020 |
| Alitis Strategic Income Series E | -5.41% |
| Alitis Income & Growth Series E | -9.00% |
| Alitis Growth Series E | -9.79% |
This is not to say that we did not hope for better because we did. During the month some of the investments that we expected to protect values also underwent pressure. In extreme market events like the COVID-19 crisis and the Great Recession, bonds and fixed income investments become more correlated with equity investments, at least in the short term.
The S&P 500 index fell 34% from February 20 until March 23 and that heightened investors' fear and margin calls. Investors sold the most liquid assets including government bonds and corporate bonds to raise cash and cover these margin calls. This switch into cash from bonds drove prices down and liquidity started to dry up. It did not help that the bond dealers in New York and London had sent their staff home. To give you an idea of what this looked like, Royal Bank of Canada senior debt due in April 2022 traded at a yield of approximately 7%5.
Central banks soon came to the rescue.
On March 27, the Bank of Canada (BOC) announced its plan to support liquidity and market function within Canada's bond market. Our neighbours to the south enacted a similar plan the week before. Here is a summary of the policies and programs that are now in place in Canada.
Interest Rates:
BOC dropped its key rate from 1.75% to 0.25%.
Improving Credit Liquidity:
Canada bonds buyback program – $5B / week
Canadian Mortgage Bond Purchases – $500MM / week
Banker Acceptance Purchase Facility – $20B / week
Provincial Money Market Purchase Program – up to 40% of the new issuance of provincial short-term securities
Commercial Paper Purchase Program (CPPP) – set to be available for 1 year
We believe that these programs and the programs announced by the Federal Reserve will support the liquidity in bond markets and we further believe that the Bank of Canada will step up again to support market function when and if it's required. "A firefighter has never been criticized for using too much water" comment by Stephen Poloz, Governor of the Bank of Canada on March 27.
BOC's next scheduled meeting is on April 15 and we'll be looking for clarity and further comments on how the extraordinary actions by the Bank of Canada are improving market function and liquidity. The Bank of Canada and other monetary institutions around the world are doing all that they deem necessary to promote market function, cushion the shock of and ease the recovery from the COVID-19 crisis.
Looking forward, bonds and other fixed income investments will continue to be an important component of a diversified portfolio and in the shorter term (3-6 months) we believe that there are very good opportunities for return in these investments.
If we look to history, we find a guide of what could happen next. During the depths of the Great Recession (September 2008), the Canadian Bond Index had a negative return of -2.39%6 in just under one month, but in the 6 months that followed the return from these bonds were +5.50%6.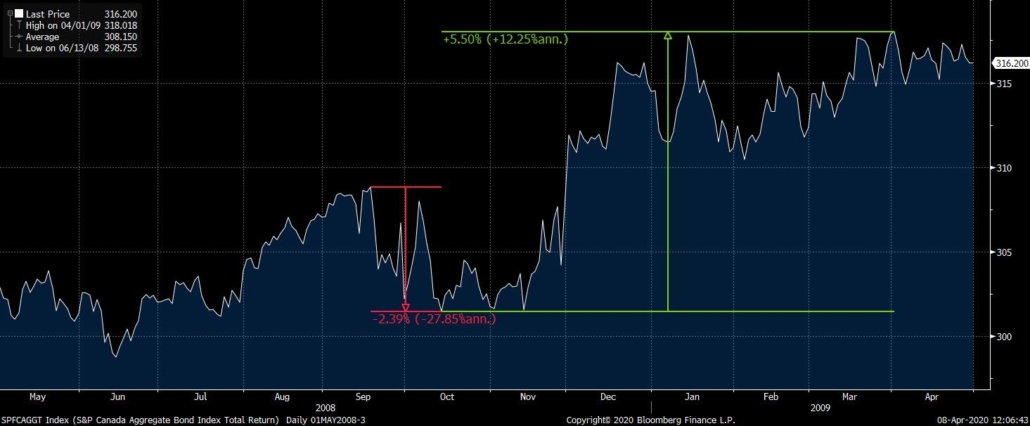 At Alitis, we are working hard to keep our clients informed on what we are thinking and how we are helping to protect and grow your investments. We continue to seek out the best opportunities to invest while maintaining our conviction that Alitis is well-positioned to protect and grow our clients' capital over the long-term due to our diversified offerings and inclusion of alternative asset classes.
Should you have further questions or comments, please don't hesitate to reach out to your Portfolio Manager or another member of the Alitis Team.
All the best,
Todd Blaseckie
Portfolio Manager
FTSE Canada Universe Bond Index™
S&P/TSX Composite Index
S&P 500 Index
S&P/TSX Capped REIT Index.
Information courtesy of RP Investment Advisors LP
S&P Canada Aggregate Bond Index Total Return™ [May 1, 2008 – April 30, 2009]
https://www.alitis.ca/wp-content/uploads/2022/10/blogFixedIncome-titlesml.jpg
375
800
Natalie Nguyen
https://www.alitis.ca/wp-content/uploads/2022/09/alitis-logo.svg
Natalie Nguyen
2020-04-09 16:09:37
2022-10-20 12:07:35
Central banks get set up to support bonds