Everything is Changing…Evolving Amidst COVID-19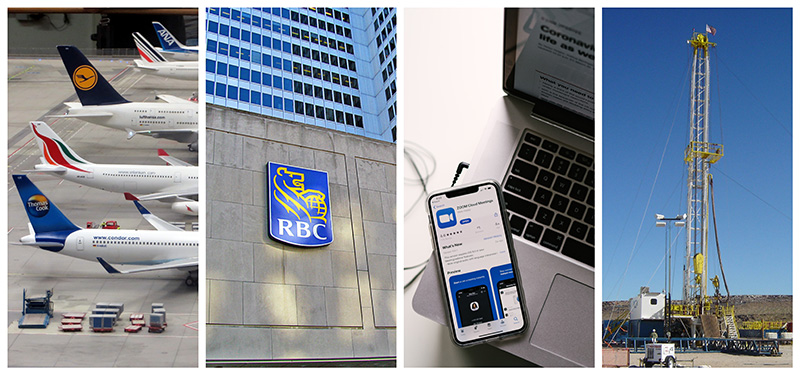 May 27, 2020: The coronavirus pandemic has crossed 5,700,000+ confirmed cases and claimed 355,000+ lives worldwide1, and a significant amount go uncounted as well.2  The loss of lives is devastating. The ripple effects of this virus have started to impact most, if not all, sectors of the economy.
At Alitis, one tool we consider often is the use of scenario analysis. How would an investment have done in a historical market crisis? Understanding how different investments react in each event is a key part in building a portfolio that is resilient across the entire market cycle.
There are a few key historical events that are typical for investors to consider and they all have earned monikers over the years: The Global Financial Crisis of 2007-2008, the Tech Bubble of 1999-2000, the Asian Crisis of 1997, and the list goes on. We believe that the COVID-19 pandemic is already earning its place in this list of scenarios that have made a mark on the investment markets for years to come, and it is still in the early stages of developing.
In this time of flux, it is important to consider the impact and outlook on some key sectors. How these sectors adapt over the next couple of years will have a significant impact on national economies, international relations, and each of our lives. We at Alitis use our outlooks to actively manage our clients' asset allocations and cash positions. This is part of our prudent approach to realize target returns with a risk level that is lower than our market benchmarks.
A is for Airlines
Carriers worldwide are facing a dire collapse in demand for flights as governments restrict travel and consumers heed warnings to stay home. Air Canada was one of the best-performing companies in the Canadian stock markets with strong fundamentals for the decade that ended on Dec 31st, 2019. The airline expects the impact of the virus to last for at least three years and predict large job cuts as it hunkers down to survive "the darkest period ever" for the industry. Air Canada is down 68% this year (as of May 12, 2020).
Airline carriers south of the border have used terms like "apocalyptic" and "unprecedented" to describe their outlook. There are rising concerns that one or more airline companies in the United States will fail as the COVID-19 pandemic all but erases demand for flights.
Graph 1: YTD drop in stock prices of Air Canada, United Airlines, Delta Airlines and American Airlines as of May 20, 2020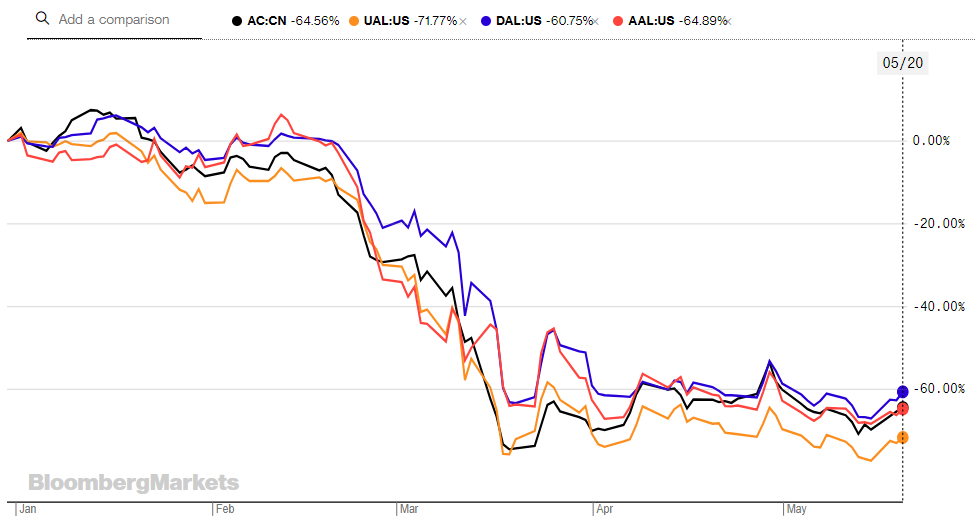 Source: Bloomberg
E is for Energy
It's hard to talk about Canadian investment markets in general without discussing oil. Energy makes up almost 14% of the S&P/TSX Composite Index, and oil is a major employer and contributor to the economy. Oil prices have plummeted in recent months, as COVID-19 caused a huge drop-off in demand for energy, and the pandemic has hit North America just as Saudi Arabia and Russia started a price war to gain world market share. Last month, for the first time in history, global crude contracts slipped into negative territory as demand collapsed due to the COVID-19 pandemic, while supply stayed steady which led to an unprecedented storage shortfall.
To add to this, the Canadian energy sector was dealt a major blow when the world's largest sovereign wealth fund decided to divest from four Canadian oil companies, citing "unacceptable greenhouse gas emissions".3
Canadian energy companies are in capital preservation mode announcing capital spending cuts, employee layoffs, and lowering executive pay. The federal financing relief package for large Canadian companies was applauded and welcomed with open arms. There has been some price recovery in the last month, but the truth remains that the prices we are seeing today are by no means close to profitable for the industry. The reopening of any number of battered economies across Asia, Europe, and the Americas will be difficult and could be set back at any moment by the second wave of COVID-19 infections. The enthusiasm for cutting production shown by U.S. shale companies or OPEC+ could weaken.
Bottom line: It will take a long time for demand to recover fully and most likely won't be until we have a vaccine.
Graph 2: WTI Crude Futures drop in mid-April 2020 and recovery over the last month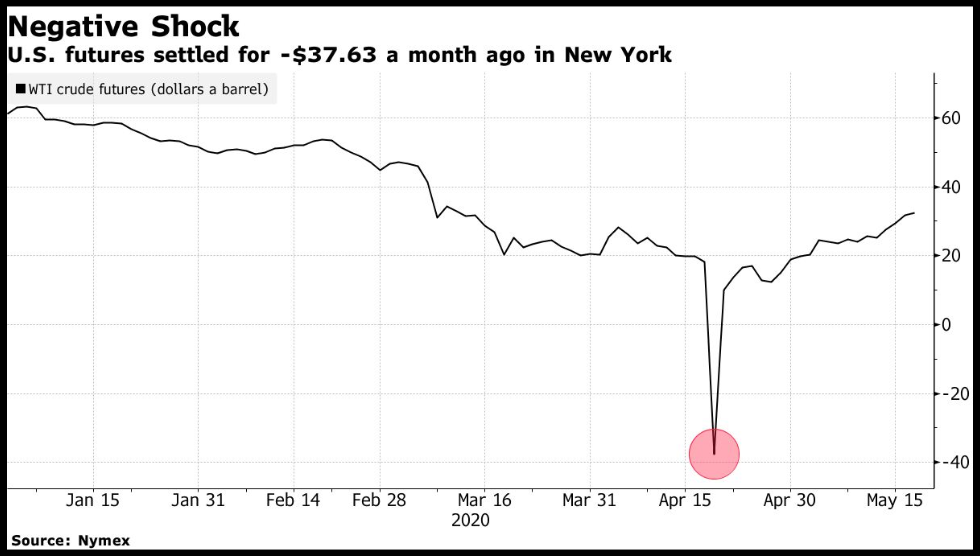 Source: Nymex
F is for Financials
Canada's largest banks hold more capital entering the COVID-19 pandemic than they did entering the global financial crisis in 2008. Banks in Canada have stepped up to help our country work through these difficult times and have launched comprehensive programs to make a positive difference for those who need their help and support. They are working directly with individual and small business customers to create tailored support plans to manage financial uncertainty and build a bridge to a strong future.
But as the recovery is expected to be a long and slow process, even the big banks will experience one or more of these challenges:
Non-performing loans will surge as consumers and businesses are unable to make loan payments
Rate cuts, as well as a collapse in demand, will have a top-line impact causing revenues to decrease
Restrictions on personal interactions will push customers toward digital channels for service and sales
Misaligned revenues and cost will require banks to improve operational flexibility and rethink short-term priorities
To add to this is the geographic exposure that each bank has outside Canada – including the United States, Brazil, Asia, or Europe.
Graph 3: YTD drop in stock prices of the top 5 Canadian Banks as of May 20, 2020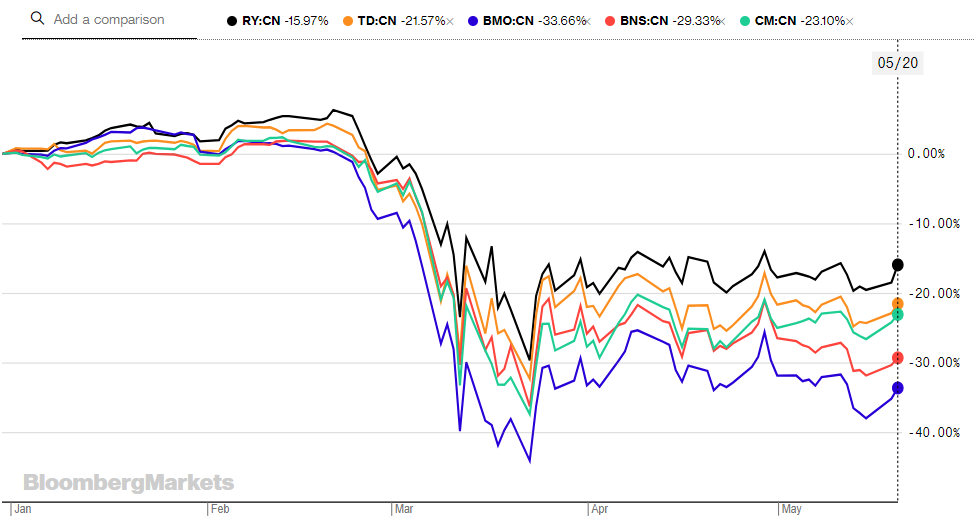 Source: Bloomberg
T is for Technology
The COVID-19 pandemic has revealed the extent to which we rely on technology and how it has become integrated with almost every facet of the economy and our lives. We have seen technology applied to keep "business as usual", to replace normal social interactions and to be mobilized for good to fight the COVID-19 pandemic.
The effects of COVID-19 are having a significant impact on the technology sector, affecting raw materials supply, disrupting the electronics value chain, and causing an inflationary risk on products. More positively, the disruption has caused an acceleration of remote working, a rapid focus on evaluating and de-risking the end-to-end value chain.
Hardware, Software, IT Services, Semi-Conductors, and Network Equipment – all these technology sub-sectors have been forced to evolve to this new paradigm shift.
The delayed launch of new smartphones, increased demand for remote-working technologies, a surge in security software demand, delay in supply of raw materials, and need for ever-faster access to date and automation are just a few of the many impacts on the technology sector.
Technology will continue to play a major role in the COVID-19 pandemic. Each organization will be impacted differently based on several factors. This situation could play out for technology broadly in two waves: the current, more significant wave, that has direct consequences due to the pandemic and self-isolation measures, and a future change in the way consumers and companies interact with technology.
Graph 4: YTD drop in stock prices of Apple, IBM, Intel Corp, Alphabet and Microsoft as of May 20, 2020

Source: Bloomberg
At Alitis, we do not tend to trade sectors, or the individual stocks mentioned in this article directly4. However, we do make a point to stay informed and follow the markets, as ripple effects will impact all asset classes. If you are interested in a more thorough report of our broad economic outlook and Alitis Pools' current investment strategy, check out this post from the end of April written by Kevin Kirkwood, our President & Chief Investment Officer.
The number of moving pieces during this pandemic is akin to a forest fire. There is no model that can predict exactly how every individual flame will burn. Even if such a model were built, the wind could change a moment later and throw it askew. In our case, the collective actions of governments, businesses, and citizens provide gusts of policy and action that can be as unpredictable as the wind.
However, we are not lost in the blaze. We can start by carefully studying the results we have from experience and history. We can adapt to the knowledge we gain at each turn. We can examine options and make predictions with the information we have available. We can respectfully balance empiric information with theoretical approaches, keeping our long-term goals, targets, and values in mind.
We will get through this period. There may be a "new normal" that we must adjust to, and some regions/sectors/asset classes may be in better shape than others. What will not change is our dedication to our process and our continued determination to strive for excellence in everything we do for our clients.  In the words of Michael Jordan, "Obstacles don't have to stop you. If you run into a wall, don't turn around and give up. Figure out how to climb it, go through it, or work around it."
Thank you for your trust in Alitis.
Sincerely,
Apurva Parashar, MBA, CAIA, CIM
Chartered Investment Manager
Thomas Nowak, BComm.
Research Associate
References
https://www.worldometers.info/coronavirus/
https://www.reuters.com/article/us-health-coronavirus-global-cases/global-coronavirus-cases-surpass-3-5-million-amid-underreporting-fears-idUSKBN22G00Z
https://business.financialpost.com/commodities/energy/why-the-worlds-largest-sovereign-wealth-funds-divestment-from-the-oilsands-could-trigger-a-bigger-fund-exodus
Alitis Investment Counsel is a registered Investment Fund Manager and Portfolio Manager in British Columbia, Ontario & Quebec, and is a registered Portfolio Manager in Alberta, Saskatchewan & Manitoba. Alitis manages money through the use of mutual fund trust structures (the "Alitis Pools") that may hold direct or indirect positions (including both long and short positions) in the individual sectors or stocks mentioned in this article. At the time of writing, the Alitis Pools did not hold any direct positions in the sectors or securities mentioned in this article. This article is not to be considered as specific investment advice or as a specific investment recommendation.
Disclaimer 
This report is provided, for informational purposes only, to customers of Alitis Investment Counsel Inc. ("Alitis") and does not constitute an offer or solicitation to buy or sell any securities discussed herein to anyone in any jurisdiction where such offer or solicitation would be prohibited. Opinions expressed in this report should not be relied upon as investment advice. This report does not take into account the investment objectives, risk tolerance, financial situation or specific needs of any particular customer of Alitis. Each individual's investment objectives, risk tolerance, financial situation and specific needs should be evaluated before making any investment decision.
Unless otherwise noted, the indicated rates of return are the historical annual compounded returns for the period indicated, including changes in security value and the reinvestment of all distributions and do not take into account income taxes payable by any securityholder that would have reduced returns. The investments are not guaranteed; their values change frequently and past performance may not be repeated. Unless otherwise noted, risk refers to the annualized standard deviation of monthly returns for the period indicated.
The information contained in this report has been drawn from sources believed to be reliable, but is not guaranteed to be accurate or complete. Alitis assumes no duty to update any information or opinion contained in this report. Neither Alitis nor any director, officer or employee of Alitis accepts any liability whatsoever for any errors or omissions in the information, analysis or opinions contained in this report, nor for any direct, indirect or consequential damages or losses arising from any use of this report or its contents.
https://www.alitis.ca/wp-content/uploads/2022/10/blog-post.jpg
375
800
caorda
https://www.alitis.ca/wp-content/uploads/2022/09/alitis-logo.svg
caorda
2020-05-27 22:19:14
2022-10-20 12:07:32
Everything is Changing…Evolving Amidst COVID-19