What it looks like when you put people first
Many companies emphasize customer service, but only a few actually prioritize people
Some members of the Alitis Team during a real estate tour in Victoria.
Alitis Investment Counsel was recently featured in the Campbell River Mirror and Comox Valley Record. Read more below:
People are at the heart of every decision Alitis Investment Counsel makes — even the decision to include 'People' in their company values was made by putting people first.
"We just finished updating our core values, and everyone was involved in the process — no matter their title or experience level. The entire staff took part in several facilitated workshops to provide feedback, and every person had the opportunity to make edits to the final draft before we made things official," says Shawn Fetter, an Associate Portfolio Manager at Alitis.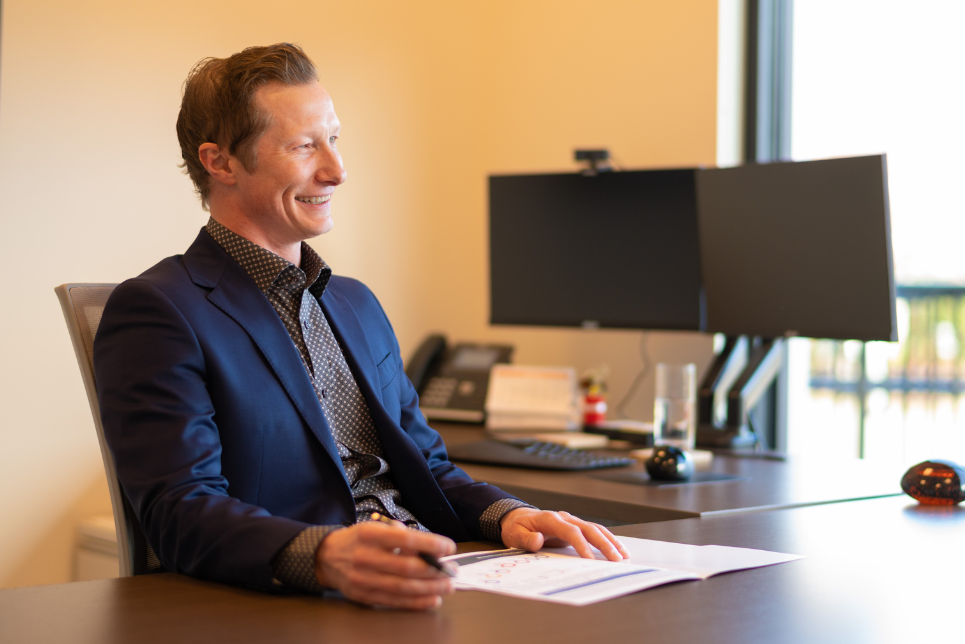 Shawn Fetter, Associate Portfolio Manager at Alitis Investment Counsel
Many companies talk-the-talk of treating people right, but as customers and as employees, we've all experienced companies that don't walk-the-walk.
"I started my career at a large bank that talked about customer service a lot, but their actions and expectations still focused on sales. It took the humanity out of the business," says Aaron Robertson, Portfolio Manager and Head of Private Client at Alitis.
"Yes, Alitis is for-profit and we're growing, but we grow by having solid, successful relationships with clients — not by focusing on sales quotas."
Aaron Robertson, Portfolio Manager and Head of Private Client at Alitis Investment Counsel
How Alitis Investment Counsel puts people first: 4 examples
Continuity: "One thing I'm proud of at Alitis is that if you call us, you actually get to talk to us. It's not a 1-800 number with a long list of menu options that lead you to an answering machine," Fetter says. You have a primary contact at Alitis, as well as the support of the wider team. With a focus on relationships, you won't have to re-explain yourself to someone new every time you call.
Collaboration: With a diverse team of specialists in all aspects of investing, Alitis Portfolio Managers have access to a wealth of support. "We have monthly town hall meetings with the whole team and monthly learning seminars, on top of the more spur-of-the-moment meetings to problem-solve for a specific client or situation," Robertson says.
Growth: Alitis employees are encouraged to keep learning, growing and improving, and that's backed by the company policy to pay for employee education and certifications. "We also have access to informal mentoring," Fetter says. "I'm about 15 years into my career, so I can reach out to colleagues with over 30 years' experience, and I also enjoy mentoring colleagues with less experience. That applies to specialists too — we're able to leverage each person's skill sets for the benefit of our clients."
Individuality: "We share our strengths, celebrate our successes, and honour our differences," Robertson says. Recognizing and embracing the fact that no two clients are the same helps to foster empathy, innovation, and understanding.
"It's a collective effort to keep coming back to our values — it's something we work at every day," Robertson says. "Part of that is trust — each of us builds trust by performing well, meeting goals, and doing what's right for our clients."
Find Alitis Investment Counsel in Campbell River at 101-909 Island Highway, in the Comox Valley at 103-695 Aspen Rd., in Victoria at 1480 Fort St., and online at alitis.ca. For more information, call 250-287-4933 or email info@alitis.ca.
Our Team at Alitis
Our dedicated team at Alitis has over 250 years of collective industry experience. But what makes us unique is the high level of integrity that every team member brings to the table.
Along with experience and integrity, each team member at Alitis shares the same commitment to our clients. At the end of the day, we measure our success based on the success of you reaching your financial goals.
If you're interested in investing with Alitis, let's have a conversation: