Press Release: Announcing Alitis' New CEO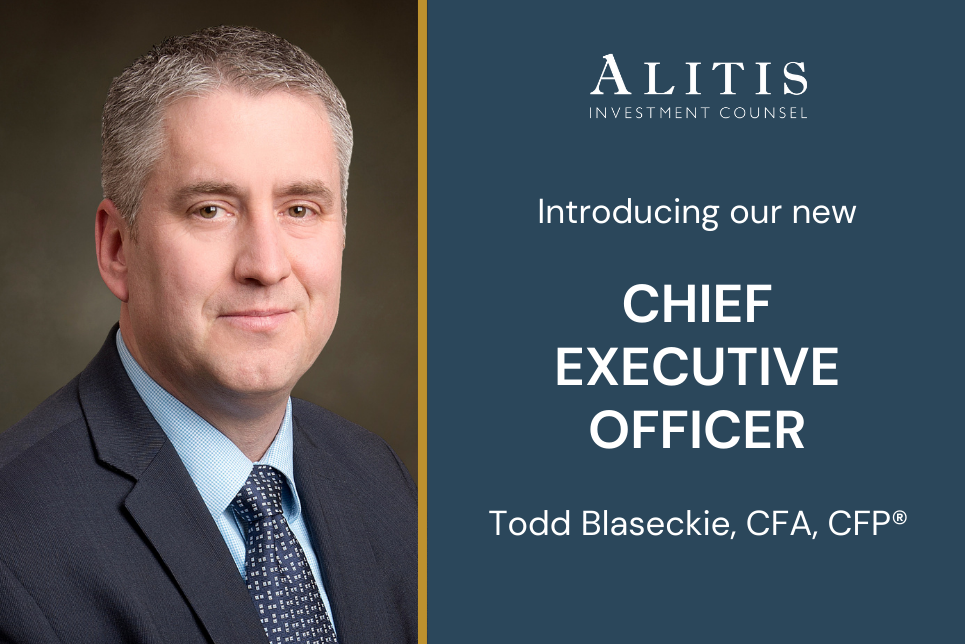 Alitis Investment Counsel Inc. ("Alitis"), a discretionary portfolio manager, is pleased to announce the appointment of Todd Blaseckie as Chief Executive Officer, effective March 1st, 2023. Todd's appointment follows an extensive selection process.
Following 16 years with Qtrade Financial Group, Todd joined Alitis as a Portfolio Manager in 2016. His roles and responsibilities have included fund portfolio management, fixed income analysis, treasury management, discretionary investment management and advisory client management.
Todd will succeed Cecil Baldry-White, founder of Alitis and the acting Chief Executive Officer for the past 14 years. Cecil will continue to be Chairman of Alitis' Board of Directors, which will support a smooth transition.
"Todd's extensive investment management background has given him a full suite of skills that will allow him to succeed in this challenging and rewarding new role," says Cecil Baldry-White. "His experiences in various facets of management will be a great strength in leading Alitis' growth for the years to come."
Todd holds the Chartered Financial Analyst (CFA®) and Certified Financial Planner (CFP®) designations. He has completed numerous industry courses and has earned a Bachelor of Business Administration from Simon Fraser University.
"I am humbled by the confidence and trust that Alitis has placed in me, and I am very excited about the opportunities that lie ahead," says Todd Blaseckie. "We have a very talented team of investment and wealth service professionals, and we'll continue to help our clients build their wealth."
About Alitis Investment Counsel 
Founded in 2009, Alitis is an employee-owned Vancouver Island wealth management firm providing discretionary portfolio management and retirement planning services. Through a team approach, we help our clients build and protect their wealth. In addition to asset classes like stocks and bonds, Alitis offers access to the diversification and returns of private equity, private debt, as well as real estate and mortgages, otherwise known as alternative assets. We firmly believe that the addition of alternative assets helps to act as a safeguard in clients' portfolios to better navigate market volatility and deliver better risk-adjusted returns. For more information, visit alitis.ca.
Media Inquiries: Contact Natalie Nguyen at nnguyen@alitis.ca