2022 Year in Review – Alitis' Investment Returns Stand Out
Alitis Investment Returns for 2022
2022 was a shaky year for investors across the board. With the exception of a few investment types, such as cash and the energy sector, everyone performed poorly. In the U.S., the telecommunications sector got pummeled, while the consumer discretionary, information technology, and real estate sectors also had a bad time1. So, what happened in 2022?
Early in the year, troubling inflation reports spooked the markets leading to a rise in interest rates. Stock and bond markets generally declined until October but did recover a bit by the end of the year.  When you factor in the February invasion of Ukraine, the spike in oil prices, and continuing inflationary concerns, it's easy to see why 2022 was a tough year for investors.
But despite the year that was, many Alitis clients didn't fair so bad. In fact, even in a losing year, most of our investors saw their portfolios grow. The resilient 2022 performance of our flagship investment, the Alitis Income & Growth Pool, shows our investment strategy in action. Instead of just relying on stocks and bonds, this Alitis pool includes real estate and mortgages. With all four asset classes combined, the portfolios of our clients were able to remain resilient in the face of adversity.
Take a look at how all classes of units for the Alitis Pools performed in 2022 (shaded) and over other time frames.  All returns are to December 31, 2022:
Class D Units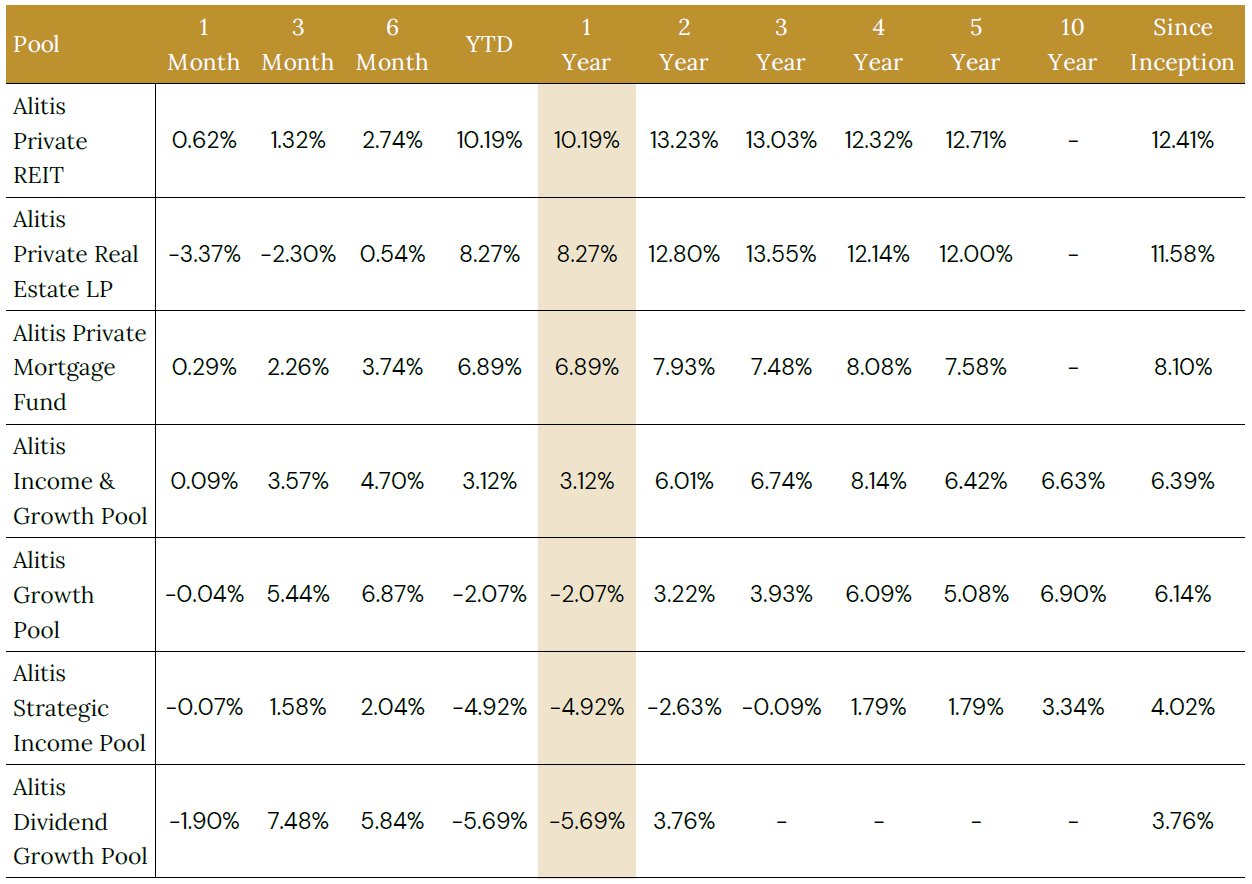 Class E Units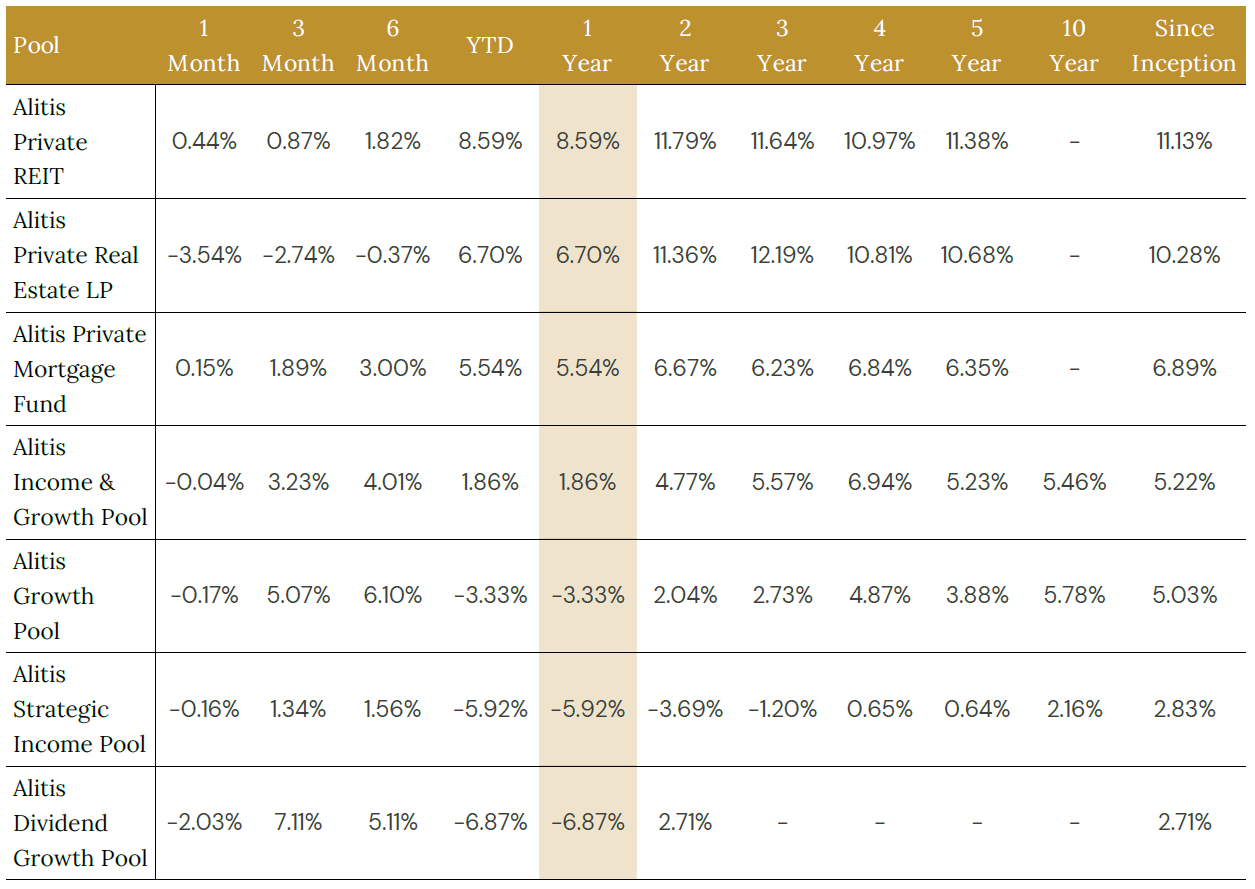 Class F Units

Class A Units
Stocks and Bonds Both Had A Very Bad Year
Usually, bonds provide a stabilizing influence in a portfolio, but that wasn't the case in 2022. Bonds performed just as poorly as stocks.  The chart below illustrates the annual returns on stocks and bonds in the U.S. since 1871 and as can be seen, 2022 was the worst year for bonds.
The previous example is U.S.-focused, but situations down south usually affect Canadians as well. To provide some perspective on how bad a year it was in Canada, the following are the average returns for all the fund categories used in Canada (from Morningstar, as reported by TD2):
Fixed Income Funds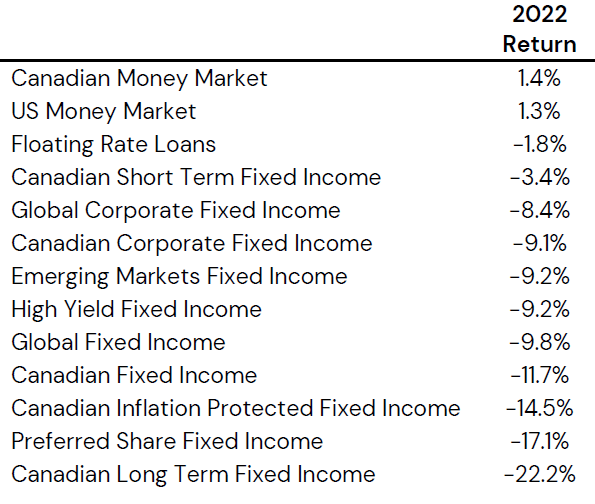 Balanced Funds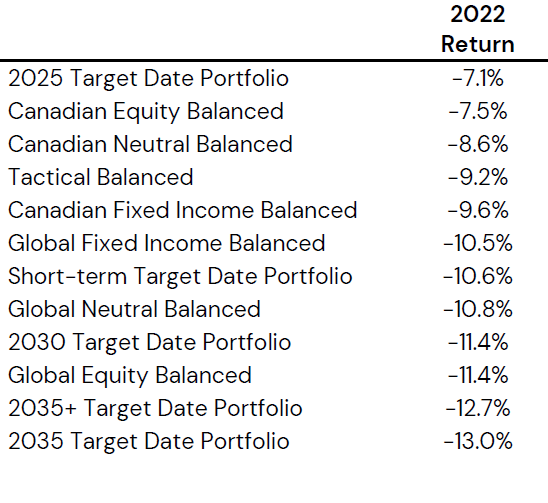 Equity Funds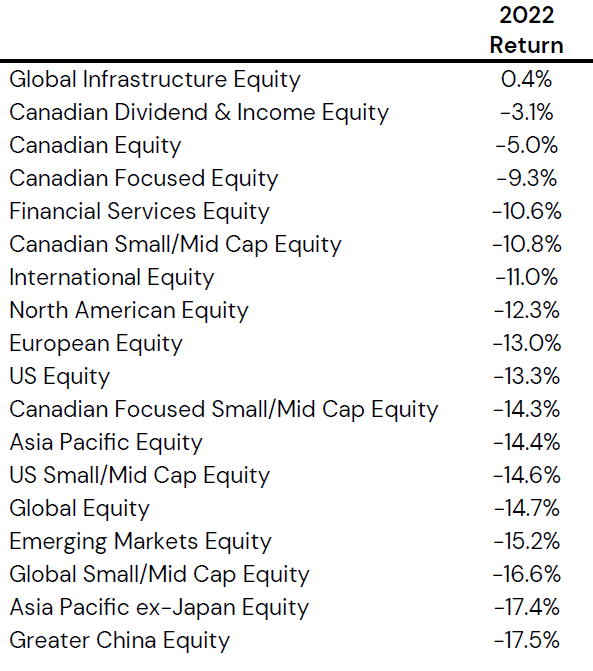 Other Funds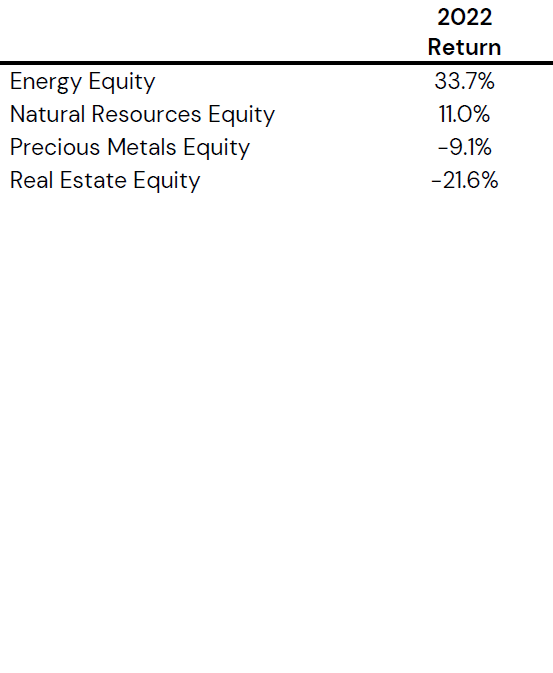 Our Positioning Last Year
Despite a rocky 2022 for most investors, Alitis investors were mostly protected because of some of the decisions we made in the previous year. How we positioned our investments played a significant role in the performance of the Alitis Pools in 2022.
Here are our major calls:
Fixed Income:Interest rates were so low that the only way they could go was up – and that would not be good for bonds!  A shift was made to shorter-term bonds, private debt, and alternative fixed income products to minimize the impact of any interest rate increases.
Stocks:S. stocks were very overpriced and our models indicated that this market should be heavily underweighted. Outside the U.S., better opportunities existed and that is where money was allocated; some money was withdrawn from continental Europe just before Russia invaded Ukraine. As well, value stocks were far more favourable than growth stocks.  Private equity investments were added as a means to avoid market volatility.
Mortgages:As these were mostly short-term and/or variable rate, any increases in interest rates would likely have a positive effect on returns. No significant changes were made to the management of this asset class.
Real Estate:Generally, Alitis has focused on residential real estate as this has generally been the safest component of real estate, so we were well-positioned from the start. We let projects complete and had the opportunity to purchase some new, cash-flowing buildings outright later in the year – a strategy which has reduced the risk of the real estate portfolio.
Overall, our views in early 2022 indicated that the exposure to fixed income and stocks should be minimized, and within these asset classes exposure to the pricier components should be avoided. Greater weighting was assigned to mortgages and real estate which were expected to perform reasonably if interest rates increased. Overall, our positioning was very good as minimizing exposure to public markets and shifting towards mortgages and real estate allowed Alitis to avoid much of the turmoil experienced by others last year.
Alitis Income & Growth Pool – A Great Year
We generally do not like to compare the Alitis Pools to other investments available in Canada as they are too different to make a meaningful comparison. However, 2022 was an extraordinary year which illustrated why we do things a little differently, with the perfect example being the performance of our flagship investment, the Alitis Income & Growth Pool.
This investment is comprised of all the asset classes we utilize at Alitis which generally means that it is the least susceptible to issues that may happen in a single asset class. As mentioned before, the two primary asset classes used in Canada – stocks and bonds – both had a very poor year. This fund also included two other asset classes – real estate and mortgages – which acted quite differently and ensured that the fund made money last year.
Investment funds are placed into certain categories (shown previously) based on their investment mandate and the Alitis Income and Growth Pool was assigned the "Global Neutral Balanced" category, which had 3,066 fund/classes of funds with returns for 2022. Below is the list of the top funds in Canada in this category for 2022, in descending order: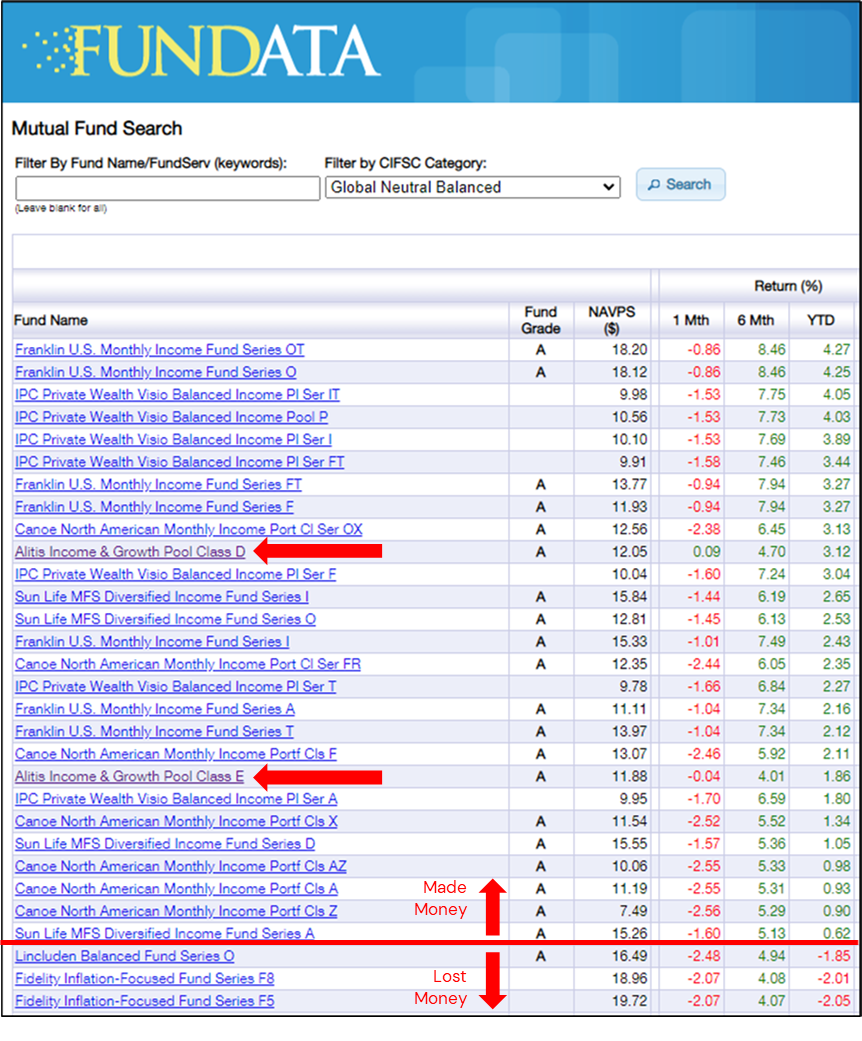 While the returns for the Alitis Income and Growth Pool were not spectacular, they were positive – something that was very hard to achieve last year.  In fact, only 27 funds/classes of funds (0.9%) managed to earn a positive return last year, and two of these were the D & E classes of the Alitis Income and Growth Pool.  As noted previously, the average return in 2022 for the Global Neutral Balanced category was -10.8%, meaning that the Class E Units of the Alitis Income and Growth Pool beat the average by over 12.6%!  And the reason for this relatively great performance is very simple – we use more asset classes to add better diversification which helps to mitigate downside risk.
Our Team at Alitis
Our dedicated team at Alitis has over 250 years of collective industry experience. But what makes us unique is the high level of integrity that every team member brings to the table.
Along with experience and integrity, each team member at Alitis shares the same commitment to our clients. At the end of the day, we measure our success based on the success of you reaching your financial goals.
If you're interested in investing with Alitis, let's have a conversation:
Disclaimers and Disclosures – Alitis Investment Counsel Inc. ("Alitis")
This article is provided for informational purposes only and does not constitute an offer or solicitation to buy or sell any securities discussed herein to anyone in any jurisdiction where such offer or solicitation would be prohibited.
Unless otherwise noted, the indicated rates of return are the historical annual compounded returns for the period indicated, including changes in security value and the reinvestment of all distributions and do not take into account income taxes payable by any securityholder that would have reduced returns. The investments are not guaranteed; their values change frequently and past performance may not be repeated.
The information contained in this article has been drawn from sources believed to be reliable but is not guaranteed to be accurate or complete. Alitis assumes no duty to update any information or opinion contained in this article.
"Annual S&P Sector Performance ." Novel Investor, 3 Jan. 2023, https://novelinvestor.com/sector-performance/.
Mutual Funds Categories, https://marketsandresearch.td.com/tdwca/Public/MutualFunds/CategoriesOverview.
© 2023 Alitis Investment Counsel Inc. All rights reserved. Unauthorized use, distribution, duplication or disclosure, in whole or in part, or in any form or manner, without the prior written permission of Alitis is prohibited by law.