The Right Adviser for You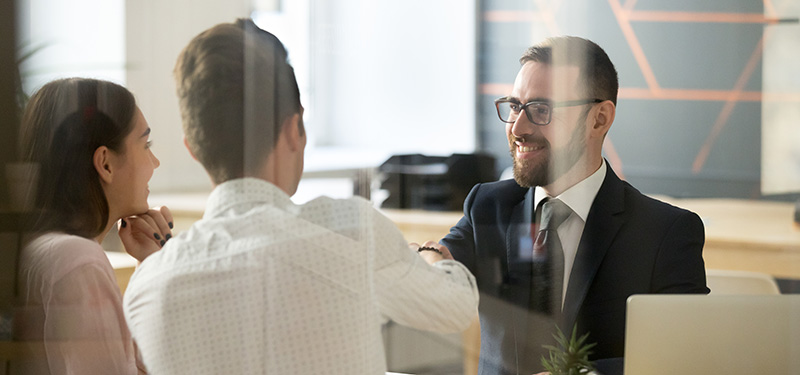 Imagine for a moment that it is a beautiful day on the west coast and your friend invites you onto their new boat to head out on the ocean. The sun is shining, the ocean is calm and you are having a great time. After a few hours boating, you start to feel the cool wind on your skin and notice that the ocean is becoming choppy. You scan the horizon and can see dark clouds approaching quickly. The waves are getting bigger. You turn to your friend to ask what to do and if you will be okay. They explain that they don't know because they've never been in a squall before. In fact, they've only had the boat on the lake, never the ocean; you both panic!
Coincidentally, finding the right financial adviser can be a similar situation. The value of the experience and education that your adviser and their team will not only add value in your planning and wealth, it can provide peace of mind when you are on the ocean during a storm. The world as we know it has changed significantly in the past few months.  Finding the right adviser for you is important and can be very valuable, especially in these turbulent times. Here are our top 3 tips:
1. Education: The financial industry is rife with an alphabet soup of designations. A few designations to look for are;
CFP (Certified Financial Planner) is likely the most recognized of all the designations in the financial industry. Financial Advisers who have this designation have invested in their education to become a well-rounded professional that is competent in most areas of finance; they are essentially general practitioners of finance.
CFA (Chartered Financial Analyst) and CIM (Chartered Investment Manager) are the most common designations when it comes to wealth management. Financial Advisers who have earned these trademarks illustrate a high level of proficiency, dedication, and skill to understand various investments and strategies and how to navigate their client's portfolios to achieve long term success.
CLU (Certified Life Underwriter) is a common designation for financial advisers who are skilled in the areas of estate and insurance planning for individuals and businesses.
2. Experience: The experience of an individual financial adviser is important, however the experience and composition of the team around them is just as important and in some cases even more so. In the traditional model of wealth management, an adviser was expected to know a little about everything and/or their breadth of knowledge was minimal. Today, some firms are evolving to a team model; a group of like-minded professionals who form a comprehensive unit in wealth management. Within the group there can be a variety of specialists enabling comprehensive planning. The varying degrees of experience and expertise within the team can create a strong culture of mentorship providing the client with benefit they may not find with an individual adviser.
As the sports world has illustrated time and time again, individuals don't win championships, deep teams do. Similarly, the advisory team approach seeks to remove competition between advisers, helping to build collaboration between experienced and newer advisers. In this approach, it is common that in specific circumstances for a more experienced or educated adviser to be brought in to lend their experience and expertise to a given situation. The model encourages this and advisers have no fear of their clients being stolen or losing out on compensation.
3. Fit: Ultimately, when you choose to work with an adviser you are entering into a relationship that will likely span decades and for some families, generations. Ask yourself this question; do you like and trust the individual giving you advice? If a good connection does not exist, then at some point this relationship is going to have friction which can be amplified in stressful situations like the market and economic volatility we are seeing right now. Interview a few advisers and decide if they are the right fit. If you already have an adviser and there is friction or a misalignment, take the time to determine if there is a better fit.
A recent study from Russell Investments quantified that comprehensive wealth management can result in a value of 2.88%, up from 2.79% in 2019.[i] When you find an adviser, who is a student of their craft, has an experienced team that they can leverage, and you enjoy working with them; then you can say that is money in your pocket! Ultimately, we are in a service profession where trust is paramount. At Alitis Investment Counsel, we are confident that our team has the experience, education and relationships to help you achieve your financial goals.
Sincerely,
Shawn Fetter, CFP, CLU
Senior Financial Planner
Wealth Service Coordinator
---
[i] Russell Investments Canada Ltd. "Advisor Value Is Nearly Triple the Typical Advisory Fee: Study." Investment Executive, 7 May 2020.
Disclaimer 
This report is provided, for informational purposes only, to customers of Alitis Investment Counsel Inc. ("Alitis") and does not constitute an offer or solicitation to buy or sell any securities discussed herein to anyone in any jurisdiction where such offer or solicitation would be prohibited. Opinions expressed in this report should not be relied upon as investment advice. This report does not take into account the investment objectives, risk tolerance, financial situation or specific needs of any particular customer of Alitis. Each individual's investment objectives, risk tolerance, financial situation and specific needs should be evaluated before making any investment decision.
Unless otherwise noted, the indicated rates of return are the historical annual compounded returns for the period indicated, including changes in security value and the reinvestment of all distributions and do not take into account income taxes payable by any securityholder that would have reduced returns. The investments are not guaranteed; their values change frequently and past performance may not be repeated. Unless otherwise noted, risk refers to the annualized standard deviation of monthly returns for the period indicated.
The information contained in this report has been drawn from sources believed to be reliable, but is not guaranteed to be accurate or complete. Alitis assumes no duty to update any information or opinion contained in this report. Neither Alitis nor any director, officer or employee of Alitis accepts any liability whatsoever for any errors or omissions in the information, analysis or opinions contained in this report, nor for any direct, indirect or consequential damages or losses arising from any use of this report or its contents.
https://www.alitis.ca/wp-content/uploads/2022/10/adviser.jpg
375
800
caorda
https://www.alitis.ca/wp-content/uploads/2022/09/alitis-logo.svg
caorda
2020-07-20 22:29:23
2022-10-20 12:07:30
The Right Adviser for You